174 ratings
Your Go-To Explanatory Guide for «To Live Forever» + Bonus Info for 100%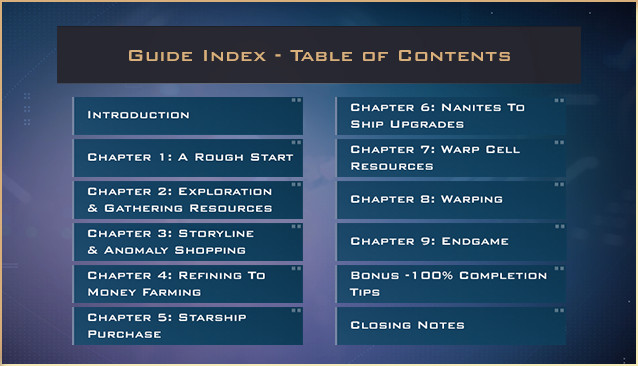 Hello Travelers! My name is Keezayl and I am a Games' Achievement Hunter. Thousands of hours of gaming experience and specifically around 250+ hours on No Man's Sky made me decide to create this guide to help out fellow travelers on perfecting the game, share my knowledge to those who may need it and help new and non-new players complete the achievement in one of the fastest and easiest ways possible.
My normal/casual save has over 140 hours recorded and it is mainly the save file that taught me everything I know, how to tweak and use the game to my advantage. The Permadeath achievement took me 15 hours to complete, thus the time recorded on that save is the same. The chapters of this guide contain all the steps I took to get the achievement and explain each one thoroughly. You will also get the «Take a Deep Breath» achievement, that requires the player to reach the Galactic Core on Survival mode. Since Permadeath is one level harder, you get both when completing the game on it.
Please do not hesitate to point out any mistakes or further tips to make the in-game route even faster. Feedback is much appreciated and always needed. Enjoy!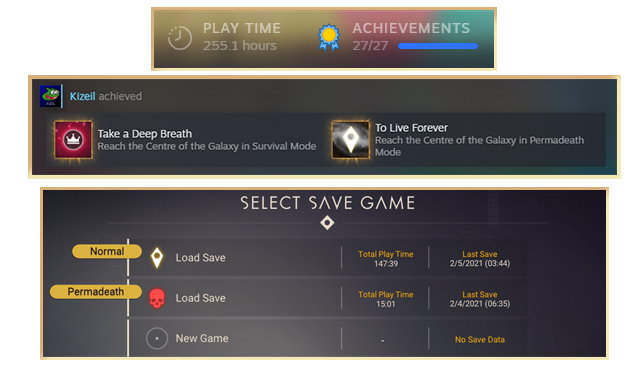 ⠀⠀⠀⠀⠀⠀⠀⠀⠀⠀⠀⠀⠀⠀⠀⠀⠀⠀⠀Chapter 1: A Rough Start

In comparison to Normal or Survival mode, Permadeath mode has added dangers and while other modes have two save slots, one for auto save and one for manual save, in Permadeath there is only one save slot which contains the last save and is wiped upon death. That said, when you load in Permadeath, the chances of spawning in an extreme planet or semi-extreme planet is close to 100%.
The first thing that you need to do is check your surroundings closely during the initialization and prepare your first few meters of pathing. The Exosuit Hazard Protection systems will be at 50% and you are obliged to find shelter (for instance a cave entrance) in the first 1 to 2 minutes. The best spawn that you can get is next to a cave entrance that has visibility of the outside terrain.
The player is instructed to fix the Scanner. Gather as much Ferrite Dust as possible as well as Cobalt inside the cave. Cobalt is easily farmed by mining stalagmites or stalactites inside the cave. I suggest fixing the Visor as well during the time you are in the cave. After fixing two out of the three most important and only needed technologies of the Multi-tool, go ahead and stack/create a bunch of Ion Batteries. If you are lucky enough, you may end up in a cave that has both Ferrite Dust mining spots on the ground as well as Cobalt.
After stacking up those Batteries, you can freely roam outside in the open, just make sure to macro the Exosuit Hazard Protection recharge button to optimize its downtime. The next mandatory action that needs to be taken is to farm Carbon from flora (trees or trees-lookalikes) and a lot of Di-Hydrogen, that can be found on the ground and can be scanned to be located. Farming Carbon and Di-Hydrogen will help you on creating the Life Support Gels, that totally replace your need to farm Oxygen early, which is way harder than finding Di-Hydrogen nests on the ground.
This is pretty much the fundamentals for early game and since Exosuit Hazard Protection and Life Support Systems have been taken care of long term, the really rough part of your Permadeath run is over. Let's head on to early Exploration and which resources you need to gather as you progress.
⠀⠀⠀⠀⠀⠀⠀⠀⠀⠀⠀Chapter 2: Exploration & Gathering Resources

Now that the survival issues have been resolved, and you have acquired a stable ground, it is OK to move on with part of the main campaign. Follow the storyline until the game asks you to rename your base and to retrieve some blueprints from the base computer.
Based on No Man's Sky mission log you need to complete the following at this stage of the guide:
Test and Repair Multi-Tool Systems
Investigate your surroundings
Repair starship and multi-tool systems
Leave the planet
Test Starship Systems
Track the mysterious signal
Find the Cache
Establish a Base: Build a Terrain Manipulator
Establish a Base: Collect Chromatic Metal
Establish and Construct a Base
Investigate Base Computer Archives
Find Base Modules: Unearth Blueprints
Explore the planet and expand your base
Investigate the Base Computer Archives
After completing these missions and before visiting the Space Station as requested by the game, try to gather Albumen Pearls from Caves (as many as possible, store them in the cargo tab of your Exosuit for maximum storage efficiency) or even Vortex Cubes that can also be found in caves. Any of the two can help establish an early bank, Albumen Pearl the better option as it has more demand on Space Stations and can be sold for more than the Vortex Cube.
During the requested excavation of the Salvaged Data that corresponds to one of the missions, try and gather at least 30 Salvaged Data (can be split to two stacks in the inventory) because it will be needed further in the playthrough.
If you have some spare storage after the core resources aforementioned, check drop pods and crash sites for Gek Relics, GekNips, Vy'kken Effigies, Vy'kken Daggers or Korvax Casings, based on who actually dominates the system you have spawned in.
If a good amount of valuable items has been gathered, proceed to the Space Station, make bank out of the sales and completely finish the first chapter of the campaign called «Awakenings».
By the time «Awakenings» chapter is over, you will have the following list of items/blueprints that are needed for the run:
Exosuit Hazard Protection and Life Support System Optimization
Free Starship with early game Hyperdrive (will stay at base stats, no module upgrades to be installed unless you somehow loot a C to A Hyperdrive upgrade module)
Terrain Manipulator
Base Teleport Module (will be used to travel to Space Stations, Launch Thruster costs fuel only if launched from planet, free launch from Space Stations or Freighter)
Warp Cell Blueprint (the most important blueprint of the run)
A decent amount of money that will be needed later
⠀⠀⠀⠀⠀⠀⠀⠀⠀ Chapter 3: Storyline Missions & Anomaly Shopping

After the «Awakenings» Chapter is done, we are introduced to the next one under the name «Alone Amidst the Stars». Only the first two tasks of this chapter need to be completed as they provide the last mandatory realm and blueprints for the run. We get to search more clues about Artemis and we are then introduced to Nada, Polo and the last important piece of the puzzle, the Anomaly.
When you are done going through all the NPC dialogues, head straight to the Upgrades Section of the Anomaly and use the Salvaged Data for the Medium Refiner Blueprint, the Galactic Trade Terminal and optionally for the Battery and Solar Panel.
If you have gathered a decent amount of Nanites during the Exploration phase (Crashed Pods, Mineral/Flora/Fauna scans, selling useless Upgrade Modules to vendors), stir to your right and head to the Starship Upgrade Iteration/Vendor and get the following upgrades:
Cadmium Drive — 80 Nanites
Emeril Drive — 120 Nanites
Indium Drive — 200 Nanites
Nonlinear Optics — 75 Nanites
Positron Ejector — 150 Nanites
A total of 625 Nanites, no other upgrades from the Anomaly's Starship Upgrade Vendor are necessary. Drives will help maximize Hyperdrive Range a.k.a. Light Years that your ship can travel and the upgrade of the Cannons and Shotgun/Positron Ejector installment will help during the freighter fight. Talking to Iteration Helios and Nada on new discoveries will also grant you some Nanites.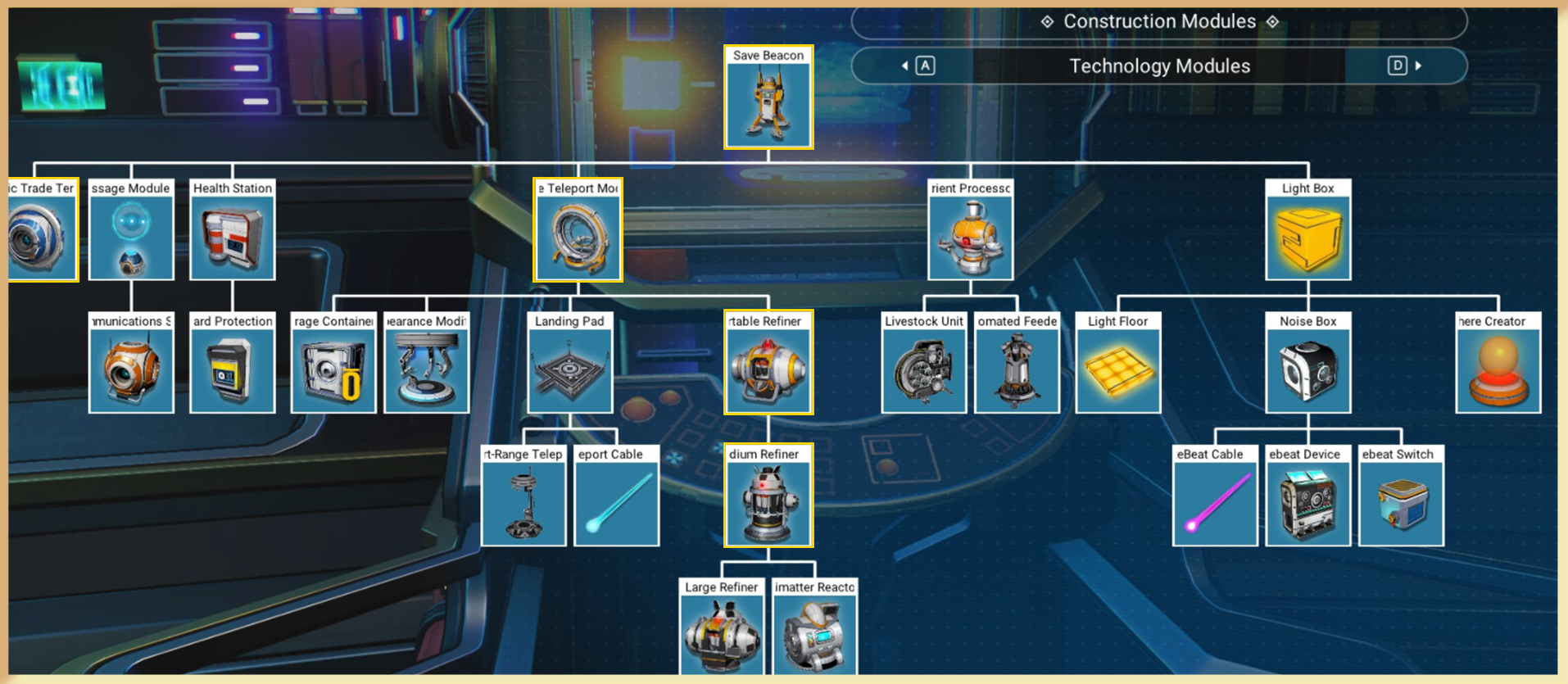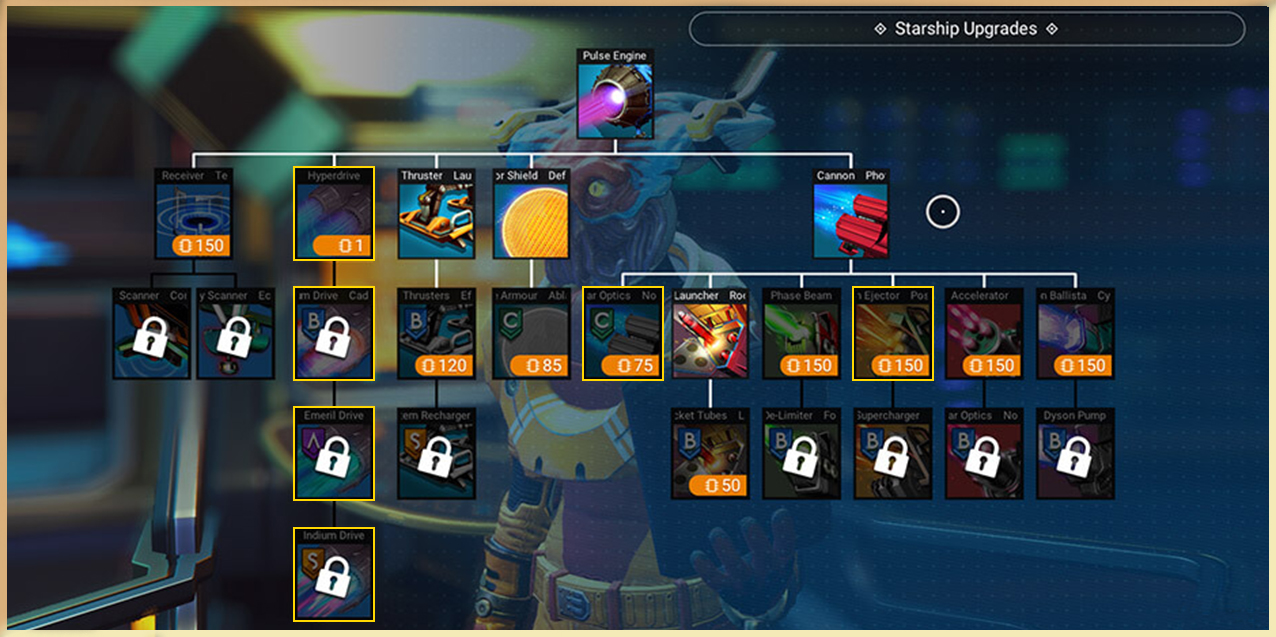 ⠀⠀⠀⠀⠀⠀⠀⠀⠀⠀⠀⠀⠀ Chapter 4: Refining to Money Farming

Your next stop after leaving the Anomaly is the System's Space Station. Visit the Station's Trade Terminal and check if Salt or Chlorine is sold. You need to buy either 2 Salt or 1 Chlorine, either will work on starting up the money farm. Salt can also be mined from objects that give Ferrite Dust. Analyze minerals that contain Ferrite Dust as primary material and has ???? as second, some have Salt as secondary.
Also buy all of the Oxygen that the Space Station provides with the bank that is left.
What I did next and also suggest doing is warping several times in nearby systems, always visit the Space Station of the new system you are warping to, so you can get back to it with the Base Teleporter. By warping, you can firstly gather more Oxygen from the Space Stations and secondly, there is a chance of warping into a Freighter battle.
Winning the Freighter battle will give you a free Space Base that can warp to whatever system you are in for free, free landing and launches for your Starship towards and from the Space Station, all of the Storage Containers (number 0 to 9), and unlimited power supply for a Base Teleporter, therefore makes the Freighter completely necessary.
After you get the Freighter, you will be needing a total of 500 Magnetised Ferrite, which can be bought at low prices from Space Stations (92 to 113 units per Magnetised Ferrite), and 200 Sodium, which can also be bought at low prices from Space Stations (46 to 56 units per Sodium), to set up all of the Storage Containters, number 0 to 9, inside the Freighter. Storage will be needed to store the initial Raw Materials and then the Outputs before selling them.
Let us go step by step on how the Money Farm will be set up:

Create as many Medium Refiners as possible, I went for three, 300 Magnetised Ferrite and 15 Di-Hydrogen Jellies needed for all three.
Store the bought Oxygen in the last 2 Containers (number 8 and 9), pick those two Containers just for Oxygen.
Buy more Oxygen, any excess goes to the Containers.
If 2 Salt was bought, refine them to 1 Chlorine. If Chlorine was bought use 2 Oxygen to make them 4.
Put a Chlorine and a whole stack of Oxygen (250) to each Refiner and start refining. Product goes back to cycle to be expanded.
When product stack reaches 250, quick-transfer it to the Freighter Storage.
Repeat steps 5 and 6 until all Oxygen is spent and the initial 2 Salt or 1 Chlorine that you have bought expanded to insane numbers.

When the whole process is complete, keep as many Chlorines as the number of your Refiners (e.g. 3 Chlorines if you have 3 Refiners) in your Starship inventory and take as much Chlorine as your Inventory tab and Cargo tab can fit from the remaining bunch and visit a Space Station to sell the goods. I suggest always selling when the Demand is above +1.0%, therefore making more bank.
By the time I made my first few millions, I visited a few more Systems and bought 1 more Inventory Slot and some Cargo Slots in the Exosuit. Rest of the bank was used to buy more Oxygen to repeat the money farm. I stopped farming money as soon as I hit 60 to 70 million.
After I hit that number of units, I had already visited a total of 28 nearby systems, including the one I spawned, and had visited all of the Exosuit Upgrade Vendors of each Station to purchase the expansion slots. Keep in mind, main Inventory tab can hold stacks of 250 but Cargo tab can hold stacks of 500. Buying that 1 slot in the Inventory tab costs 5k units, you can always buy that one for Cargo but will cost 1 million units. Check the images below to see my final Inventory and Cargo tabs.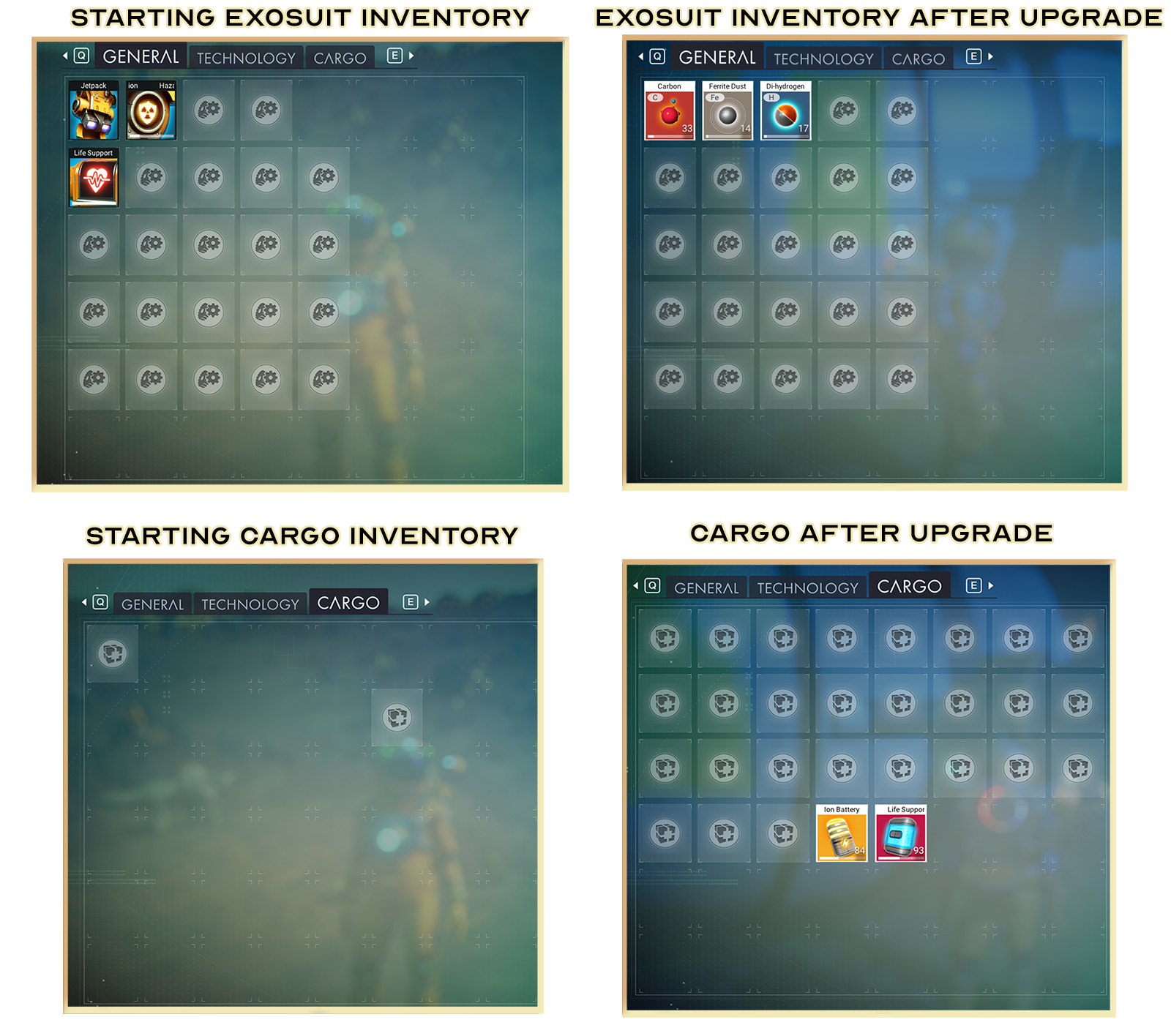 ⠀⠀⠀⠀⠀⠀⠀⠀⠀⠀⠀⠀⠀ ⠀⠀⠀ Chapter 5: Starship Purchase

In this chapter we will talk about Starships and what is the best option for our run.
There are six types of starships: Shuttle, Fighter, Hauler, Explorer, Exotic, and Living Ship. Among these archetypes are four letter-grade classes: C, B, A, and S. For this run, we will not stumble upon a Living Ship and possibly not an Exotic one.
Shuttles have balanced stats, with no significant class bonus compared to the other archetypes. Fighters feature a damage potential class bonus. These ships are the mascot ships of No Man's Sky, and are also the primary starships of pirates across the galaxy. Haulers feature a shield absorb class bonus, and they also boast the highest possible inventory spaces.
Last but not least are the Explorers, which is the Starship type that we are looking for. Ships of this type feature a hyperdrive range class bonus. These ships usually feature abstract shapes connected together with many thin, slender pieces with smooth surface, giving it insectoid or arthropodic look.
Class Type
Hyperdrive Bonus
⠀⠀
⠀⠀⠀⠀7⠀/⠀15
⠀⠀
⠀⠀⠀20⠀/⠀30
⠀⠀
⠀⠀⠀35⠀/⠀45
⠀⠀
⠀⠀⠀60⠀/⠀80
Based on the table above, and logically, the best option is purchasing an S-Class, but the chances of an S Explorer landing in a Space Station or your Freighter is pretty slim. I bought the first A class Explorer that landed in the system I was in at the time and kept it till the end of the run. I suggest doing the same. The best thing about Explorers is that they are not pricey, even the S class ships, so you will still have a lot of units to use for the last step of the run that has to do with buying materials.
Also, big bonus extremely helpful information given by a friendly user that commented, @user19990313, and gives us insight on how to roll high class Explorers.
Originally posted by user19990313:

The best place to roll the ship is a space station in a Korvax top-level economy system. This is due to the fact that (1) higher economy level will increase the chance to spawn class A/S ships, and (2) Explorer type ships has a bonus chance to spawn in Korvax systems
⠀⠀⠀⠀⠀⠀⠀⠀⠀⠀⠀⠀⠀ ⠀Chapter 6: Nanites to Ship Upgrades

Next up, we need to gather Nanites for the Hyperdrive Upgrade and also buy some resources to install the Straship Upgrades that we bought on the Anomaly.
The maximum Hyperdrive bonus we can get is by installing 6 Supreme Hyperdrive Upgrade Modules, three of those modules will be installed in the general Inventory tab of the Starship and the other three will go directly to the Technology tab.
For 6 Supreme Upgrade modules, you will need to gather 3800 Nanites maximum. Each module upgrade may cost from 518 Nanites to 634 Nanites. Not every Starship Upgrade Vendor in a Space Station will have the S Hyperdrive Upgrade, but since you have already warped to several stations, jump through each one from the Space Station teleporter and check each vendor.
To easily gather the Nanites required, simply visit all of the Mission Agents from all the Space Stations you have visited and select the easiest tasks that offer Nanites. I always chose the «Creature Killing» and «Mineral Scan» missions, as they are easy, and by doing one run, while multiple are active, the game tracks progress for all. Also always upload new System discoveries to receive free Nanites.
As far as the Cadmiun, Emeril and Indium Drive is concerned, you can always warp to the corresponding colored system to gather Cadmium and Emeril, 250 of each is needed for the installation and money to buy Wiring Looms and for the Cadmium Drive you can either refine Copper to Chromatic Metal, or buy it.
Red and orange star systems (Class M & K), uncommon, can only be accessed with Cadmium Drive, only Red/Orange star systems will have planets with Cadmium. Gather 250 Cadmium and you can install the Emeril Drive.
Green star systems (Class E), rare, can only be accessed with Emeril Drive, only Green star systems will have planets with Emeril. Gather 250 Emeril and you will be able to install the last drive, called Indium Drive.
With 6 Supreme Hyperdrive Upgrades, the Base Hyperdrive Technology and the bonus three drives, Cadmium, Emeril and Indium, you will gain a significant boost that will skyrocket your Hyperdrive range from three digit to four digit. That is exceptionally good for the run since the more Hyperdrive range you got, the furthest you can warp towards the Galactic Core.
Check the image below on how to set up the upgrades for maximum efficiency.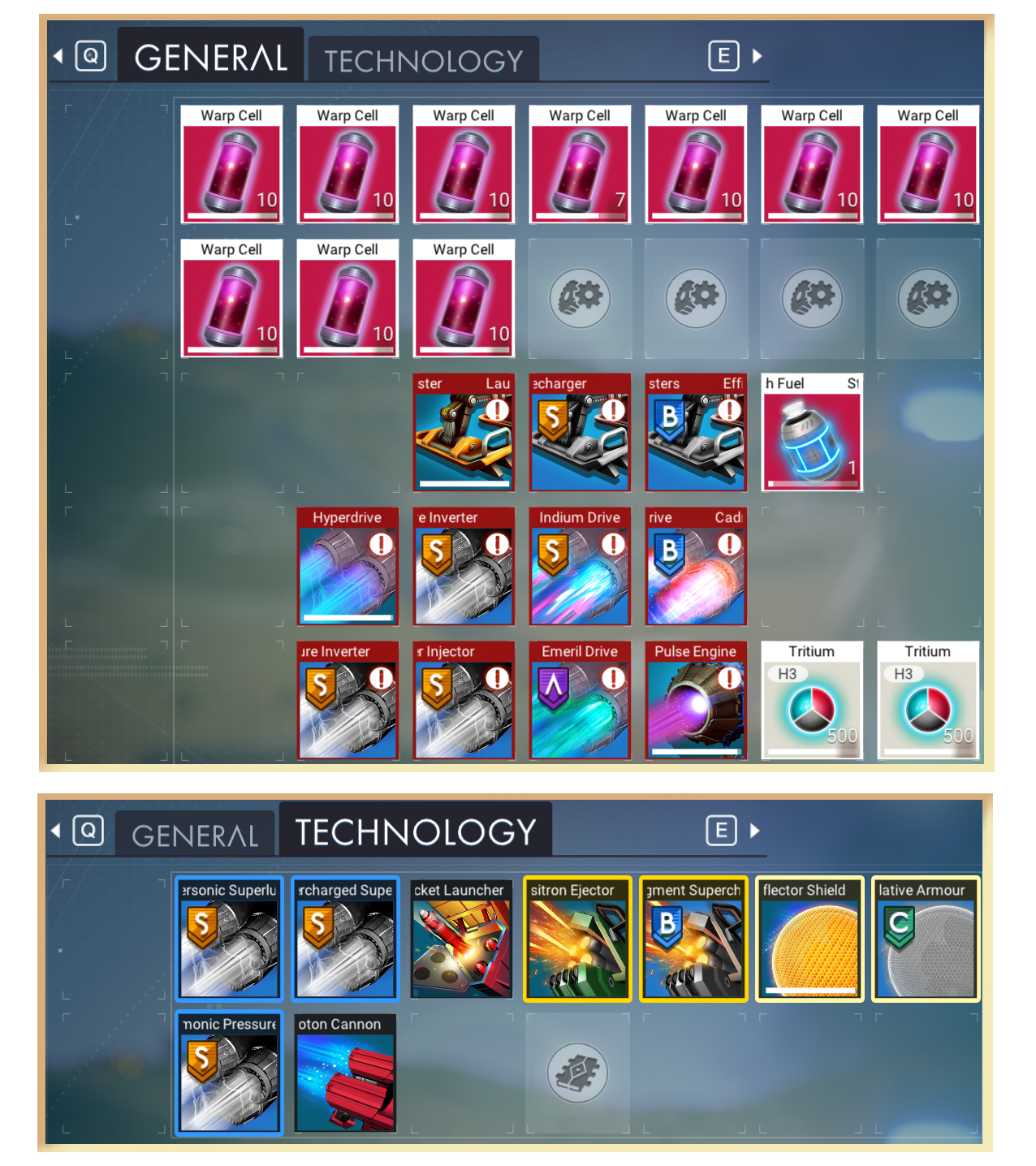 ⠀⠀⠀⠀⠀⠀⠀⠀⠀⠀⠀⠀⠀ ⠀ ⠀Chapter 7: Warp Cell Resources

This is the last step we will take before we make our way to the Galactic Core. Visit all of the Space Stations you have visited so far in cycle and gather the following resources in bulk:

16 to 20 250x stacks of Chromatic Metal or twice the amount in Copper
2 full Storage Containers of Oxygen, one of the two will be refined to Carbon and then to Condensed Carbon
16 to 20 stacks of Ferrite Dust
The above materials will be used to create a bunch of Antimatter Housing and of course Antimatter, in order to stack up on Warp Cells. If you check the picture of my Starship's Inventory tab from the previous chapter, I have nine 10x stacks Warp Cells and another 7, in the slots that are empty were the Warp Cells that were used during the flight to the Galactic Core. Based on that, a total of 43 Warp Cells have been used to recharge the Hyperdrive and that shows the efficiency of fuel consumption because of the Supreme Hyperdrive Upgrades that were installed previously.
The excessive material hoarding is to make sure you have enough Warp Cells, but having at least 10 stacks of 10 Warp Cells will be more than enough to get to the Galactic Core.
⠀⠀⠀⠀ ⠀⠀⠀⠀⠀⠀⠀⠀⠀ ⠀ ⠀⠀ ⠀ ⠀Chapter 8: Warping

Before I point out the obvious, let me tell you, traveler, that every 100.000 Light Years took me about 45 to 50 minutes to cover. I began traveling from 726.458 LY to get to 2.100 for the last jump.
I know it is time consuming, and in the first few warps you will end up in a Freighter Fight again. After that, every warp is one step closer to the middle and nothing will happen when you get to each System, so it's a routine.
My Starship's maximum hyperdrive range was 2218 LY, allowing me to travel the most in Systems that were 2216 LY away. Everytime I warped, I instantly opened the Galaxy Map, changed the target to Galactic Core, stir until I see the Core and go forward, checking Systems passing by until I reach close to 2100+ LY. I finished the whole trip in 2 sessions, stopped at around 400.000 to 350.000 and continued from that point on the next day.
Since you have all of the Drives installed (Cadmium, Emeril, Indium) you will be able to warp to whatever System is further.
All you need is patience and a little bit of time.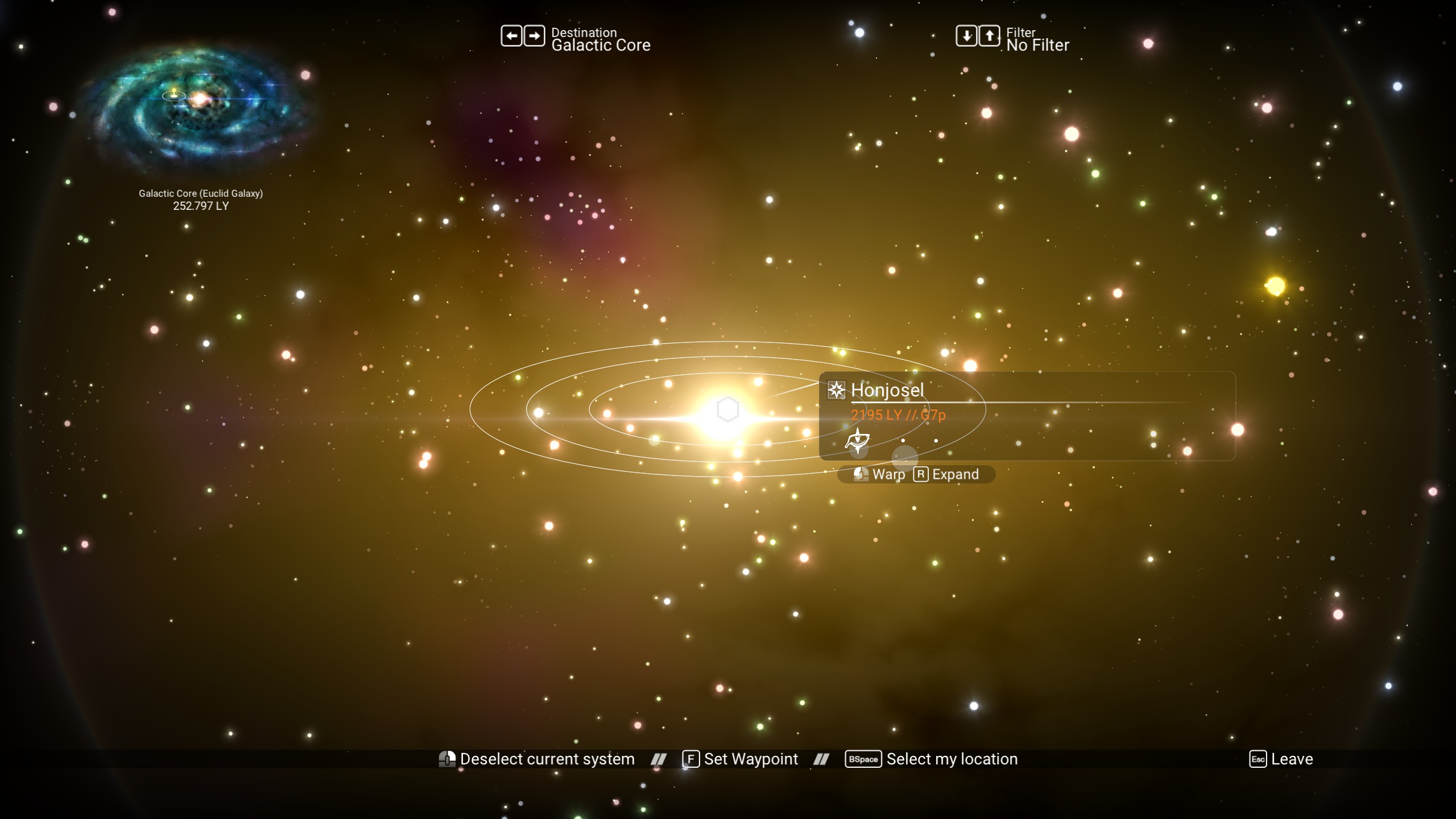 ⠀⠀⠀⠀ ⠀⠀⠀⠀⠀⠀⠀⠀⠀⠀ ⠀ ⠀⠀ ⠀Chapter 9: Endgame

Congratulations fellow traveller, you made it to the Galactic Core. I never doubted that you could achieve it. I hope the tips and tricks of the guide helped you achieve it way easier than you thought you would. Below are the total warps it took me to get to the Centre of the Galaxy!
⠀ ⠀⠀⠀ ⠀⠀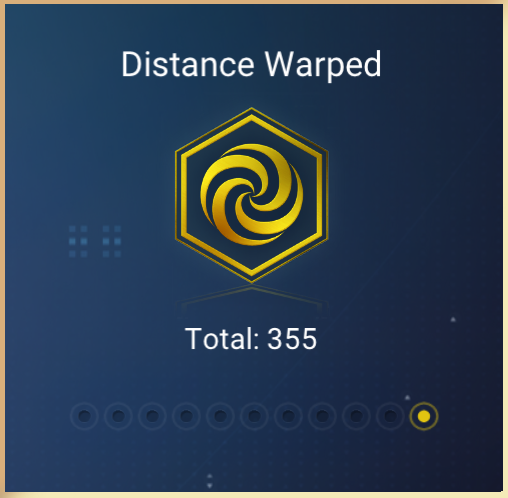 Take a Deep Breath — Reach the Centre of the Galaxy in Survival Mode — If you followed this guide, then the Achievement is yours.
To Live Forever — Reach the Centre of the Galaxy in Permadeath Mode — If you followed this guide, then the Achievement is yours.
Cradle Achievement — Claim a base or Freighter — Pretty self explanatory, in whatever playthrough, by the time you follow the first few tasks of the main campaign, the game itself will grant you this achievement.
Navigators — Build an Exocraft — Also pretty self explanatory, head to the Anomaly, purchase the Roamer Geobay blueprint for 4 Salvaged Data and set it up in your base. Achievement will pop up.
Reunion — Visit another Player's Base — If you are playing with a friend, and he/she has a base set up close to yours, after he/she logs out, turn off multiplayer mode in Network settings and interact with their computer base. Achievement will pop up.

The Stars, Like Dust — Attain 'Trailblazer' status in Space Exploration — You have to warp 5 times. If you followed this guide, then the Achievement is yours.
The Longest Voyage — Attain 'Pioneer' status in Space Exploration — You have to warp 40 times. If you followed this guide, then the Achievement is yours.
A Space Odyssey — Attain 'Discoverer' status in Space Exploration — You have to warp 75 times. If you followed this guide, then the Achievement is yours.

Foundation — Attain 'Entrepreneur' status in Most Units Accrued — You have to have at least 250.000 credits in the bank. If you followed this guide, then the Achievement is yours.
The Space Merchants — Attain 'Trader' status in Most Units Accrued — You have to have at least 1.000.000 credits in the bank. If you followed this guide, then the Achievement is yours.
The Diamond Age — Attain 'Magnate' status in Most Units Accrued — You have to have at least 2.000.000 credits in the bank. If you followed this guide, then the Achievement is yours.

A Scanner Darkly — Attain 'Naturalist' status in Planet Zoology Scanned — You have to discover all creatures in 1 planet.
The Star Beast — Attain 'Archivist' status in Planet Zoology Scanned — You have to discover all creatures in 7 planets.
Galapagos — Attain 'Encyclopedia' status in Planet Zoology Scanned — You have to discover all creatures in 10 planets.
When landing on a planet, check the fauna count and what type of fauna there is, avoid planets with underground and underwater fauna if you want to do this achievement fast. The best candidates for easy full fauna discoveries are moons. Moons mainly only have 1 fauna species lurking around. To the Moons!

Babel-17 — Attain 'Confused' status in Words Collected — You have to learn 10 words.
The Languages of Pao — Attain 'Interpreter' status in Words Collected — You have to learn 50 words.
Citizen of the Galaxy — Attain 'Babelfish' status in Words Collected — You have to learn 150 words.
This can be achieved during the Permadeath run since you have visited a lot of Space Stations. Game does not point out that it is not necessary for the words to be learned from the same species so the 10/50/150 words can be collected from all races combined. Talk to all of the NPCs in each Space Station you visit and request language assistance. You will eventually learn them!

Contact — Attain 'Known' status in Alien Colonist Encounters — You have to meet/speak to 10 Aliens.
Who Goes There? — Attain 'Diplomat' status in Alien Colonist Encounters
Unlocked — You have to meet/speak to 50 Aliens.
What Mad Universe — Attain 'Ambassador' status in Alien Colonist Encounters — You have to meet/speak to 80 Aliens.
Again, this can be achieved during the Permadeath run and simultaneously with the word collection as you must speak to alien forms to collect words. Space Stations have up to 15 different NPCs that you can talk to, so this achievement is pretty easy.

Use of Weapons — Attain 'Novice' status in Ships Destroyed — You have to destroy 5 Ships.
Pattern for Conquest — Attain 'Notorious' status in Ships Destroyed — You have to destroy 50 Ships.
The Forever War — Attain 'Legend' status in Ships Destroyed — You have to destroy 80 Ships.
I suggest completing this achievement in either Normal or Survival mode as Starship battles can be pretty intense, the easiest way to get it is to just grind it out. First easy method is to get missions from Mission Agents that refer to pirate slaying. Another easy method is by destroying rocks and debris in space while having valuable resources in your Starship's inventory. Pirates will come after you!

Symphony For A Lost Traveler — Attain 'Nomad' status in On-foot Exploration — You have to take 40.000 steps.
Have Spacesuit / Will Travel — Attain 'Adventurer' status in On-foot Exploration — You have to take 100.000 steps.
I also suggest completing this achievement in either Normal or Survival mode and you will eventually get both of the achievements just by going through the main campaign, exploring, min-maxing your exosuit, multitool etc.

Stranger in a Strange Land — Attain 'Robust' status in Extreme Survival — You have to survive 20 Sols on an Extreme Planet without dying.
The Sentinel — Attain 'Everlasting' status in Extreme Survival — You have to survive 32 Sols on an Extreme Planet without dying.
A sol is an in-game unit of time equal to one half of a starcycle, about 15 minutes real-time. It is used by the game primarily to measure how long the player has survived extreme conditions. Based on that and calculating the sols needed, for the 1st achievement you need 5 hours of real time and for the 2nd one you need 8 hours of real time. I suggest doing that in specifically Normal Mode. Extreme planets will have red highlighted weather condition when landing and getting out of the Starship and will have an EXTREME or EXTREME STORM sign above the Hazard Protection System based on the planet having a storm or not. After finding the extreme planet, simply terrain manipulator your way underground or find an outpost, chill there for the said period and the game will grant you the Achievements!
As a last tip/gift/knowledge that I can give out, I will preview my Normal save mode endgame maximum efficiency Exosuit and Starship inventories that maximize every possible character and starship aspect. Enjoy!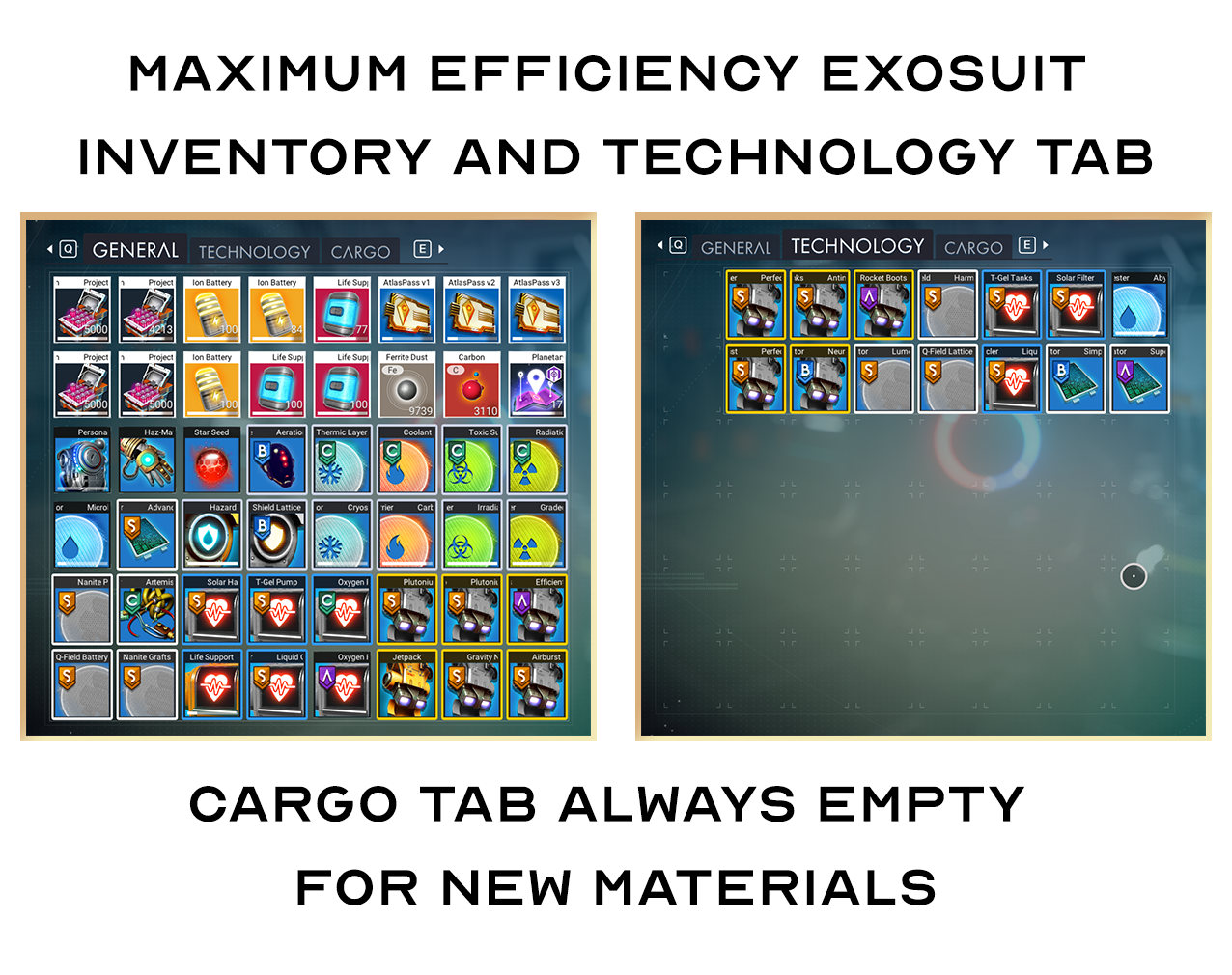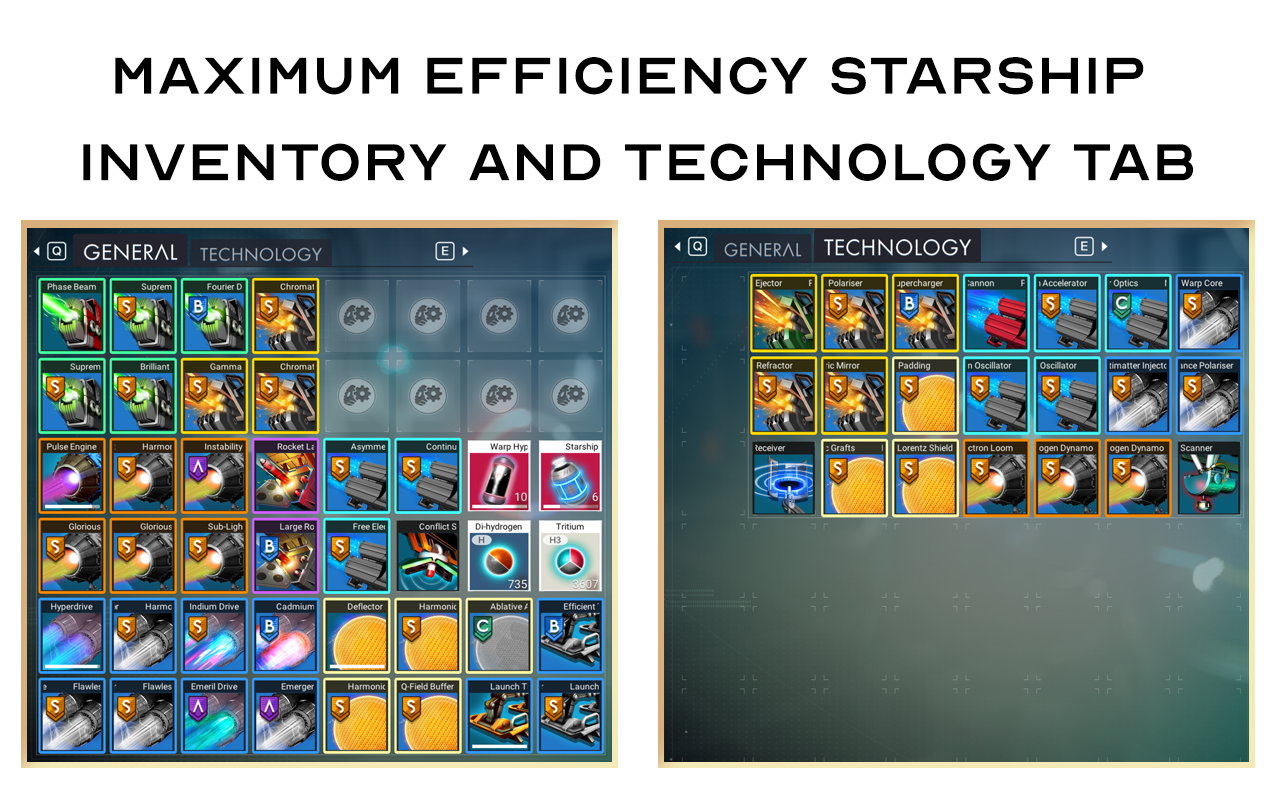 Bonus section to also add my optimal and favorite multi-tool build. I always exclude the Pulse Spitter and any of each upgrades, the Bolt caster's Ricochet «Upgrade», anything that has to do with the Blaze Javelin, Geology Cannon, Plasma Launcher, Combat Scope and the Personal Force field are not even close to needed. Since you may take up the Void Egg mission at some point that will eventually grant you a free Living Ship, I suggest having 2 more multi-tools with basic stuff, like mining laser, analysis visor, scanner, bolt caster, terrain manipulator and all of the other slots empty so you can install situational things like the Incinerator, the Solar Ray and the Animus Beam. Enjoy!

Thanks for reading this guide, I hope it's helpful. If you have any suggestions or questions, feel free to post them as a comment and I will get back to it as soon as possible. Awards are also very much appreciated!
All of the media shown throughout the guide is original and made by me, using various editing programs. Therefore, all of the media used is copyrighted and cannot be used by others. Thanks for the understanding.
Lastly, comments that do not pertain to the guide's context or aren't tips to make the in-game route/path better and faster (e.g. tips that are going to be deleted are personal rules in runs, strategies you used on other runs that are time consuming or not easier than the ones stated) will be deleted. Aim of this guide is to help new and non-new players to complete the achievement in the fastest and easiest way possible, no reason to complicate things. Thank you in advance!
⠀⠀⠀⠀⠀⠀⠀⠀⠀⠀⠀⠀⠀⠀⠀